NYFW FW14: Review Day 7
10:30 AM
Fashion Lounge x Media Brunch x Free From The Runway
NYFW Day 7:
NYC Snow Day
No more working. No more shows. No more interviews....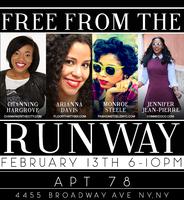 After surviving NY Fashion Week I planned on closing out with NOLCHA fashion week's fabulous media brunch and networking uptown with other awesome bloggers at Free from the Runway. Aaand then we were hit with Nor-easter #6...
Another snow storm hit the city marking it as the 6th snowstorm in 3 weeks, postponing any remaining fashion week events for the last and final day. I am completely OVER old-man-winter at this point, but I am sure the final designer showcases at Lincoln Center continued as planned, so stay tuned and be sure to check back for a review for the final 2 events of the week!
It's been fun attending fashion week this season, thank you for reading all of our posts!
Oh....and Happy Cupid's Day
Happy NY Fashion Week, See you in September!
- Kinna LeBlanc is a Freelance Creative Artist and Culture Critic.
Twitter follow @closetjane